DYNACITY
"We construct cities and cities construct us. And if it's true that we inhabit the city, it is also true that the city inhabit us" (J. Beltrán Llavador, Revista Teína)
In 2007, area3 group was invited by the Spanish Embassy in EAU to create an installation about the meaning of the EAU.
Operating like a videogame, Dynacity is an interactive installation that proposes the construction of a city with explicit reference to a plausible but unreal city of the United Arab Emirates.
The movement of the spectator is the engine generating the buildings and allowing the passage through each of the three stages of the work.
Move, jump, dance… don' t stop. In the screen, you will discover a city that travels through time (from past to future) in accordance with your rhythm, to induce reflections about architecture, identity, memory and the idea of spectacle.
Download catalog (spanish, english and arab)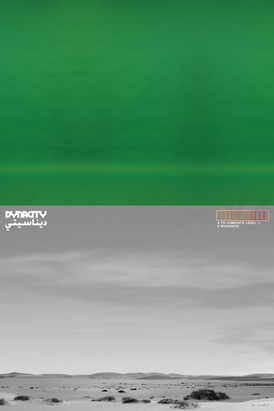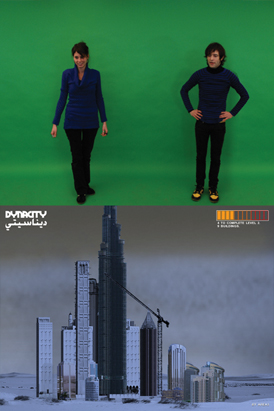 LAB PROJECT
PROGRAM OF SPANISH ARTISTS IN RESIDENCE IN THE UAE
From November 14 2007 to January 14 2008
Art Museum of Sharjah
Lab Project is a program of Spanish artists in residence in the UAE that has been launched by the Spanish Embassy in Abu Dhabi in collaboration with the Department of Culture and Information of the Government of Sharjah and SEACEX (State Corporation for Spanish Cultural Action Abroad). This program is also part of the artists in residence program of the Sharjah Biennial. It works as an experimental art laboratory for Spanish artists. They are invited to come to the UAE to get to know the country and carry out a project. The projects can offer a view of different aspects of the reality of this country seen through their eyes, or simply use this reality as an inspiration for their creativity.
The artists selected for this program have been young Spanish artists that work with new technolgies and are among the most avant gard and recognised artists in Spain in the fields of video, installations, photography, graphic design and net art.
Lab Project started in 2006. Four artists were selected:
Ana Laura Aláez
Sergio Belinchón
Maider López
area3
During the year 2006 all of them came to the UAE and visited Sharjah, Dubai and Abu Dhabi. During 2007 they have been carrying out their projects either in Spain with all the material they brought from the UAE or coming back to this country to do it here.
The results of the projects will be shown in a collective exhibition at the Art Museum of Sharjah from November 14 to December 15 2007.
Curator: César Espada. Spanish Embassy in Abu Dhabi