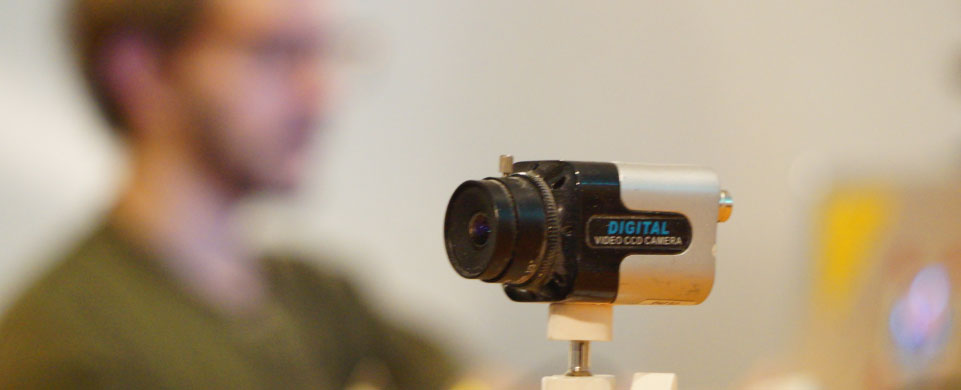 Production Marathon 2014 at CCEBA's Medialab – SystemicOS Control
From October to November 2014, the Medialab of the Cultural Center of Spain in Buenos Aires organized an art Production Marathon. It was coordinated by Federico Joselevich Puiggrós.
The marathon ended with the production of a site-specific installation. It was placed at the  CCEBA location in Florida Street in the City of Buenos Aires. It consisted of 4 security cameras using Raspberry Pi as the main tool for motor and cameras control. This computer-camera-tools also were able to send the images to a central server, which functioned as Central Control Room for the visitors.
Guest Artist:
Federico Joselevich Puiggrós
Participants:
Marcos Agüero
Daniel Felipe Ramirez Arenas
Anabela Cathcarth
Mara Guevara
Mark Marciano
Uriel Rubilar
Ricardo Andres Valenzuela Berrios
Coordinators:
Emiliano Cause
Matías Romero Costas
This text (in spanish) is the conclusion of the Maraton:
Control SistemicOS es la obra que inaugura el Laboratorio Maratón de Producción del MediaLab CCEBA, propuesta que ha convocado a siete participantes a ser parte de un proceso de realización colaborativo llevado adelante por el artista invitado Federico Joselevich Puiggrós. El proceso de planificación y construcción de la obra se ha realizado en un proceso intensivo de más de 42hs de trabajo en equipo.
El disparador de la instalación ha sido reflexionar sobre idea de la vigilancia y el control en nuestra vida cotidiana a partir de la proliferación de los sistemas de vigilancia. La ciudad se ha convertido en un escenario compuesto de cámaras que nos filman constantemente en la calle, portales de edificios e incluso, a veces, en nuestros hogares y lugares de trabajo. ¿Cómo percibimos la presencia de las cámaras? ¿Qué repercusiones tiene en nosotros estos mecanismos de control? ¿Cuáles son los límites que se trascienden en la búsqueda de "espacios seguros" en nuestra sociedad? ¿Dónde queda la cualidad de lo efímero e irrepetible en el marco de estas prácticas de vigilancia? ¿Por qué estos dispositivos de control son tan efectivos?
Desde la perspectiva lúdica que facilita el Arte Electrónico, Control SistemicOS construye un espacio dinámico en el que se cuestionan el rol del vigilado y del vigilante, permitiendo suponer ambos roles como un posible único sujeto. A partir de allí se establece un juego de opuestos complementarios donde tanto el vigilado puede vigilar como el vigilante ser vigilado.